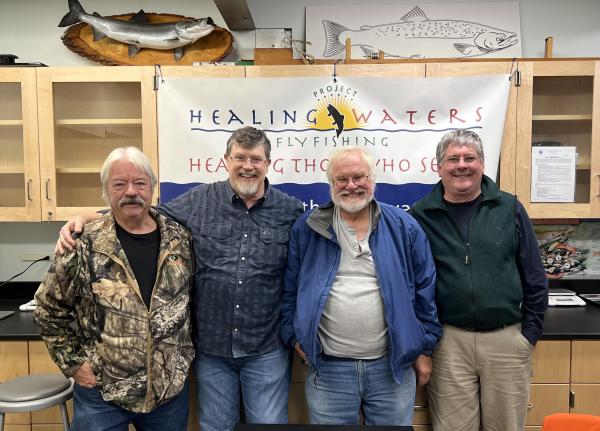 Project Healing Waters - L  to R -  Al West, volunteer, Mike Manning Program Lead, Mike Elkavitch, volunteer, Rob Packie. Downeast TU President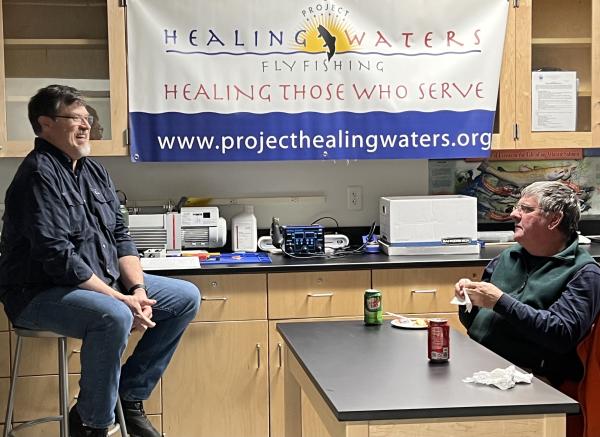 Mike Manning and Rob Packie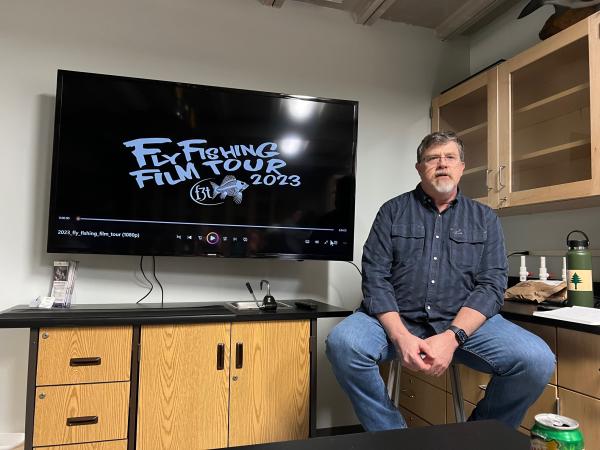 Mike Manning introduces the Fly Fishing Film 2023
Scenes from the Project Healing Waters meeting - Thursday, Nov. 9, 2023
ALL PHOTOS BY TAMMY PACKIE DETU
Downeast TU is a chapter of Trout Unlimited, a national non-profit organization dedicated to protect and conserve North American
cold-water fish species and habitat. Membership is open to all, go to tu.org/intro and use chapter code 305 Downeast TU.
Monthly meetings are the Third Wednesday of the month from October to May
TU National  Over 300 TU volunteers, including Tammy Packie, newly elected State Council Rep for the National Leadership Council, TU staff, anglers and conservationists from around the country attended CX3 in September to celebrate coldwater, conservation, and community on the Spokane River in Washington.  CX3 2023 showcased partnerships with the Nez Perce Tribe, Project Healing Waters Fly Fishing and others to emphasize the importance of collaboration to address complex environmental challenges.  Fishing on rivers with local volunteers (Tammy went with the leader of the Gonzaga Costa 5 Rivers group to learn about their activities), a stream clean-up with the Spokane Riverkeepers, the Annual Awards banquet and Members Meeting, and casting with Spokane Women On The Fly (Tammy tried fly-casting for the first time!) were fun activities for all ages. The focus of Cx3 2023 was removing the lower four Snake River Dams. Participants were given a tour of Lower Granite Dam, engaged in insightful discussions, workshops, and viewed the powerful film Covenant of the Salmon People to help understand the critical issues surrounding these dams. Thank you to all the presenters, including our keynote speaker, Nez Perce Chairman Shannon Wheeler.  Attendees left CX3 armed with knowledge to advocate for the removal of the lower four Snake River Dams to recover Idaho's salmon and steelhead. To learn more about the accomplishments TU has made in the past year and goals for the future watch President and CEO Chris Wood's State of Trout Unlimited presentation on YouTube. Next year's CX3 is in the Twin Cities, MN. from Sept. 25 – 29 2024.
Most lakes and ponds Downeast are open to fishing in the fall. Please check your lawbook before fishing.  Grand Lake Stream is open until October 25th for salmon. Fisheries biologist Greg Burr suggests using a Black Ghost, a Montreal, Barnes Special, or Colonel Bates flies.  Other salmon waters are West Grand Lake, Cathance Lake in Cooper, Donnell Pond in Franklin, Long Pond or Echo Lake in Southwest Harbor, and Beech Hill Pond in Otis.  For Brook trout try West Pike Brook Pond in Deblois, Witch Hole Pond in Bar Harbor, Echo Lake in Southwest Harbor, Simmons Pond in Hancock, Upper Hadlock Pond in Northeast Harbor and Monroe Lake in T43MD.  Poor weather lowered use in the Penobscot region and offers a better chance to catch fish this fall according to biologist Kevin Gallant.  For brook trout try Tomah Lake in Forest Township and Little Greenland Pond in Danforth (artificial lures only).  You can keep fish on Flatiron Pond (T3 R9 NWP) and Wapati (Davis) Pond in T5R7 WELS.  For white perch try Folsom Pond in Lincoln, Boyd Lake in Orneville and Crooked Brook Flowage in Danforth.                                                                                                                          

Fishing Tip: Fish become sluggish as water temperatures drop.  Slow your trolling speed and casting retrieve, this will give the fish a chance to hit your line.

· Special regulations in place during the fall months as some species are spawning

· Dress in layers and always wear a life jacket when on the water as cold water and cold air temperatures can quickly lead to hypothermia .

· Hunters will also be sharing the woods and waterways, so please be mindful and wear orange or bright clothing to increase visibility.

 

 

Downeast Trout Unlimited (DETU) is dedicated to conserving, protecting, and restoring Maine's cold water fisheries and their watersheds. Call 800-834-2419 to renew or go to tu.org/intro to join and use chapter code 305 for Downeast Trout Unlimited.  Donations may be mailed to Downeast Trout Unlimited, c/o Dana Hunter, Treasurer; 9 Lobster Pool Road Little Deer Isle, ME 04650.  For more information contact Tammy Packie, tpackiegmail.com (tpackie[at]gmail[dot]com) 207-288-5442 or visit https://www.downeasttu.org/ or our Facebook page Downeast TU:

 https://www.facebook.com/pages/category/Nonprofit-Organization/Downeast-TU/

 

 

 

 
A message from Rob Packie, President of DETU
Hello everyone, with summer trailing off into fall it is high time I fill you in on where the Chapter stands. It has been awhile since I have written to you but Tammy and I were overtaken by life events this spring. I was diagnosed in April with cancer. I have completed treatment but still have lingering side effects. Tammy has been swamped with work and family matters so has not been able to give much time to DETU. That being said, thanks to volunteers the chapter moves on with its work and the recent months were not without DETU's involvement in the community.
In April it was brought to my attention that the city of Ellsworth needed to replace a portion of the dam at Branch Lake, the city's reservoir. Branch Lake Stream is a beautiful stream that flows into the Union River. I began making inquiries to the city, agencies, and organizations regarding installing fish passageway through the dam. This work continues with discussions with the city and associated groups to make this happen.
Last year we partnered with Project Healing Waters Fly Fishing, PHWFF, to create a new chapter in Machias headed by Mike Manning, a fisheries biologist with Downeast Salmon Federation and a member of DETU. They meet monthly in East Machias for conversation and flytying. DETU members Mike Elkavitch and Al West attend these meetings and help with flytying. PHWFF held their first outings this summer, one on the East Machias River at the Wigwams Camp owned by DSF, a sponsor for PHWFF. I was able to be there for the weekend along with other DETU volunteers. 
Though the river was high and fishing was poor, everyone enjoyed the camaraderie and time on the river. We did a lot of fly casting, reviewed Maine fly patterns, and how to read the water. PHWFF went to Grand Lake Stream this summer and is planning another trip this fall.
At the annual meeting in April two DETU members, Karen Svenson and Al West. were elected to the board. These additions are important for two reasons, one they bring new knowledge and experience to the board and two, prior to that the board consisted of founding members, all of whom are in their second terms and are coming up against term limits in 2025. It is important for others to step up and join committees and fill our roles on the board to keep this chapter viable.
Also in April Tammy and I were chosen as the recipients of the first Rising Trout Award. This award recognizes an individual or organization that through their commitment and dedication has made outstanding contributions to fulfilling the Downeast Trout Unlimited mission to conserve, protect, and restore coldwater fisheries and their watersheds. The board will accept nominations in December from any DETU member for next year's award. The board will review nominations in January and the award will be given at the 2024 Annual meeting in April.
 In May Tammy was elected by the State Council to be the next National Leadership Council Representative for Maine.  This is an important role. 
T
he NLC is made up of one member from each state that TU is working in, it is the group that plays a major role in deciding the focus of TU at the National level. NLC representatives bring issues and concerns from their states to TU national and bring decisions and initiatives from the national level back to their councils. Tammy begins her duties next week when she attends Cx3 in Spokane, Washington. Each representative is asked to join two committees to help direct policy. NLC committees meet regularly via zoom but all NLC reps meet as a group at the annual Cx3 event. Tammy does not know how much time this new role will take, but she will obviously be less available for DETU.  
This spring we participated in a Free Fishing Event with Island Heritage Trust. On June 3rd Bob Bechtold, Tammy and myself  went to Lily Pond Preserve on Deer Isle to promote TU and talk about fish, fly fishing and freshwater ecology. Alas that day dawned with a stiff wind and drizzle, with a wind chill of 35"F. We were unable to cast but Bob persevered and did fly tying demos and we were able to talk about DETU and topics related to coldwater habitats in Downeast Maine. 
DETU sent one student, Cody Leighton, to Trout Camp. We thank the Pleasant River Fish and Games Club for sponsoring his full tuition. Cody will share his experiences from Trout Camp at our October meeting. 
In early September several DETU members worked with Project SHARE on large wood installation on a tributary of the Narraguagus river. I hope to get more members to join us next summer as this is an ongoing restoration project on the Narraguagus.
TU
 National hired Brian Stranko as the new Program Manager for Maine. He grew up in Pennsylvania and spent most of his career working for Caltrout and The Nature Conservancy. 
He started September 18 and attended the State Council meeting this week. We are looking forward to working with him.
Now that DETU has been around for a few years it is becoming known as another local conservation organization and is getting requests for help from other area NGO's. With this in mind I am asking for your help with specific tasks:
Mike Elkavitch designed our website, we need help updating information. Currently it is sitting idle because we have not had time to work on it.
PHWFF has asked for more volunteers so they can provide one on one fishing coverage for vets. They also need people to help cook and be available to lend a hand on overnight trips. I can tell you from experience this is rewarding and fun and you will  meet some great people. 
DSF is expanding their work with sea-run brook trout. Salters are a long term interest of DETU and we will work with DSF on pit tagging fish caught on hook and line and electrofishing. This is a great opportunity to get involved in citizen science and help study this interesting and little known subset of brook trout. 
Currently there is a huge amount of money available from the federal government for fish connectivity projects. We are involved with our first project now and are looking for more. Our chapter covers a large area and to be effective we need many eyes looking for connectivity issues.While fishing, hiking, or driving take a look at culverts that might be lacking fish passage and let's get to work with our communities to replace or improve them.
Lastly, I want to ask for help with fundraising. We need to hold a fundraising event for the upcoming year but as of now the board has not determined what that event will be. If you have experience with fundraising please contact us. If you have gently used fishing equipment that is collecting dust please consider donating it to the chapter for a tag sale or raffle. A few members have donated equipment, flies, and books already. We will need volunteers to help organize and work at our fundraising event.
We are continuing with hybrid members meetings this year. Our first meeting of the fall on October 18 will feature Al West and flyfishing in Newfoundland. 
As always, thank you for your support of Downeast Trout Unlimited. I encourage you to help us in any way you can, beginning with membership in DETU. If you have questions, ideas or concerns please contact me to discuss them. 
Rob Packie
President Downeast Trout Unlimited
rbpackie

gmail.com
(rbpackie[at]gmail[dot]com)
207-288-5442
207-610-0976
Trout Camp: DETU sent a  student to Trout camp this year. A big thank you to Pleasant River Fish and Game Club who fully sponsored our camper!
Union River Summit Over 50 attendees, succeeded in raising public awareness about the river and pointed out priorities for future planning and protection of the watershed.
Branch Lake Ellsworth: Boat inspections required to protect Ellsworth's drinking water supply from invasive plants. Inspections are done at the City Boat Launch. Branch Lake water levels have been lowered by approximately two feet to accommodate repairs to the Branch Lake dam. https://www.ellsworthmaine.gov/branch-lake/
Trout Camp is for students ages 13-17 who are interested in cold-water fisheries. The goal is to build future conservation leaders, giving teens a solid foundation in conservation, entomology and biology, while keeping it fun and interesting. Volunteers are needed, contact Mike Greene mwgreene1084

gmail.com (mwgreene1084[at]gmail[dot]com) .  
Open water fishing is open! April brings ice out and warmer weather but remember the water temperature is still cold this time of year, and water levels are often high and fast. ALWAYS wear a lifejacket! The Downeast region offers many opportunities to get out on the water during the early spring, check out the IFW fishing report at: https://www.maine.gov/ifw/fishing-boating/fishing/fishing-report.html                                        .
Downeast Trout Unlimited (DETU) is dedicated to conserving, protecting, and restoring Maine's cold water fisheries and their watersheds. Call 800-834-2419 to renew or go to tu.org/intro to join and use chapter code 305 for Downeast Trout Unlimited.  Donations may be mailed to Downeast Trout Unlimited, c/o Dana Hunter, Treasurer; 9 Lobster Pool Road Little Deer Isle, ME 04650.  For more information contact Tammy Packie, tpackie

gmail.com (tpackie[at]gmail[dot]com) 207-288-5442 or visit our Facebook page Downeast TU:
 https://www.facebook.com/pages/category/Nonprofit-Organization/Downeast-TU/
I
About Downeast Trout Unlimited www.downeasttu.org
     Downeast Trout Unlimited (Chapter #305) includes a large area of Eastern Maine from the Penobscot River east to the Canadian border, and from the Atlantic Ocean north to Rt. 9.  The area includes much ideal habitat for many species of cold-water fish with too many lakes and ponds, rivers and streams to list here.  This is a brief overview of our chapter waters, resources, and concerns, focused on two priority waters, the Narraguagus River, and the Union River, and our two most iconic fish species, the Atlantic Salmon (including Landlocked Salmon), and Brook Trout (including salters), as well as the Arctic Char, a fish that deserves special mention.
     The Narraguagus River was once one of Maine's premier Atlantic Salmon rivers.  Alas, the salmon are barely hanging on now but the watershed contains over two hundred miles of suitable habitat for salmon and trout.  Much of this river was damaged during the days of log drives by channel straightening, removal of underwater structure, and logging along the river.  Today a major restoration effort is underway by numerous agencies and organizations including TU to restore habitat with large wood installations and improving underwater structure.  These efforts are aimed at improving salmon habitat but will also improve trout habitat as well.  Another area of concern on the Narraguagus is the residual effect of acid rain. DETU is doing water quality testing with the Hancock County Soil and Water Conservation District on cold water streams in our area to assess the problem and investigate remediation solutions.
      The Union River is really a tale of two rivers.  The upstream reaches of the river have more than two hundred miles of habitat suitable for trout and salmon, much of it climate resilient.  The West branch in particular has excellent water quality and is home to several rare species of animals.  Sadly, as one nears the coast the river suffers damage from years of development and fish passage is largely obstructed by two dams.  Currently the lower dam, Leonards Lake dam, is up for relicensing and a big effort is underway to create fish passageway.  This work is ongoing and involves allied organizations fighting to restore the lower reaches of the river and allow for the return of sea run fish to the upper reaches of the watershed.  DETU has participated in tree plantings as part of this restoration process.  Allied organizations have started a tree farm to grow trees which will then be planted along the river and along streets in the city of Ellsworth in an effort to improve conditions along the Union River and one of its tributaries, Card Brook. 
     Downeast Maine is home to a half dozen Atlantic Salmon rivers.  The Atlantic Salmon is listed as endangered but work is underway by many agencies and organizations, including TU, to restore the salmon and improve the habitat on the rivers.  Downeast Maine is also home to many waters with healthy populations of Landlocked Salmon, including two of the original watersheds where these fish evolved during the last glaciation, the St. Croix River, including West Grand Lake in Washington County, and the Union River, including Green Lake, in Hancock County.  In recent times Landlocked Salmon have been stocked in many of the regions waters.  Probably the first lake to be stocked was Cathance Lake in Washington County.  It was stocked in 1868 with eggs obtained from Grand Lake Stream the previous year.
     Similarly, many lakes, ponds, rivers, and streams in our area hold Brook Trout.  Many have native brookies while others have stocked fish.  Of particular note, most streams with open access to the ocean have sea run Brook Trout or salters.
     Salters are Brook Trout that are diadromous, they run to the ocean and return to freshwater.  Unlike anadromous fish, like the Atlantic Salmon, that spend their adult life in the ocean and return to freshwater to spawn, salters appear to go to the ocean in response to things like temperature stresses and availability of food.  Salters have not been well studied and mysteries still surround them.  Though sea run Brook Trout originally occurred along more southern parts of the Atlantic seaboard, today there are remnant populations on some streams on Long Island and Cape Cod, but the majority are in Maine.  Located in Downeast Maine, the Denny's River is possibly the best salter river left in the country.
     Over the last several years, TU, along with ME IF&W, and Maine Audubon, has been conducting salter surveys in streams along the Maine coast.  These surveys have found Brook Trout in many streams, some never before surveyed, others so small you can jump across them.  With these surveys identifying streams with salters, we hope to facilitate projects to increase our knowledge and identify ways to protect them and their fragile habitat.
     Maine is the only state in the lower forty eight that has native populations of Arctic Char.  There are fourteen lakes in Maine with Arctic Char, two of these, Green Lake and Floods Pond, are in the DETU chapter area.  Floods Pond is a heavily protected lake, much of its shoreline is undeveloped and no fishing is allowed.  Its char population is well studied, that work is ongoing, and the population appears healthy.  Green Lake, on the Union River, has a population of char that are not well studied but appears to be fragile.  The lake has a lot of human development, a federal fish hatchery for Atlantic Salmon, and introduced fish species; a complicated situation for fisheries management.  Genetic research indicates that each individual population of char is genetically different, and for this reason the char populations in Floods Pond and in Green Lake, as well as the other twelve populations in Maine, deserve special protection to preserve the genetic variances that if lost can never be recovered. Researchers at the University of Maine, with assistance from Maine Trout Unlimited, are working on eDNA techniques to monitor Arctic Char populations and to detect invasive fish introductions. 
     We hope this brief overview peaks your interest in Downeast Trout Unlimited!
For more information contact Robert Packie, President, at: rbpackie

gmail.com (rbpackie[at]gmail[dot]com)                       (207) 288-5442 or visit our website www.downeasttu.org
Donations can be sent to:
305 – Downeast Chapter Trout Unlimited
9 Lobster Pool Road, Little Deer Isle, ME 04650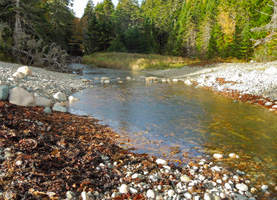 The Coastal Stream Survey Project is a collaborative effort that began in 2014, and seeks to recruit volunteer anglers to gather data on wild brook trout in Maine's coastal rivers and streams. Wild brook trout may move considerable distances during the course of their lives. Some wild brook trout that live in coastal streams may spend part of their lives in both saltwater and freshwater, a life history strategy called "diadromy." Diadromous brook trout may leave their freshwater environment for periods ranging from a few months to over a year. Typically, they migrate from fresh to salt water at an early age, probably to take advantage of the more abundant food resources in salt water estuaries and perhaps also to seek thermal refuge during certain times of the year. Learn more about the Coastal Stream Survey.
Volunteer Anglers Needed
We need your help! Thanks to the overwhelming response from anglers and the conservation community, we are pleased to announce the launch of the seventh consecutive year of the Remote Pond Survey Project. There are lots of exciting places to explore this year, and we are seeking new and returning volunteers to assist with this effort. You too can be part of this exciting conservation effort and backcountry adventure!
The success of this project is entirely dependent on the data collected by volunteer anglers, so please consider helping with the Remote Pond Survey Project. This is your chance to make a significant contribution to the conservation of native brook trout in Maine. If you love to fish for brook trout and are looking for an adventure, we need you!